GALACTIC READERS LEAGUE, ARE YOU READY FOR THE CHALLENGE?
WELCOME ON BOARD. YOU ARE ABOUT TO JOIN THE GALACTIC READERS LEAGUE AND DOMINIQUE LUCHART'S LAUNCH TEAM!
You are about to join Dominique Luchart Advanced Readers Team for the NEWDAWN Saga series, your latest YA science-fiction dystopian adventure taking you into the future…
I am thrilled to have you here as part of my DREAM TEAM. You can now read the early bird NEWDAWN Saga volumes as part of the Launch Team before anyone else. Currently, all published books can use more reviews, so please post them when you are done reading... And thank you for joining. As part of my DREAM TEAM, you will receive the following:
The digital version of the book way before anyone else sees it. This will be an EPUB file.
A free especially dedicated to you hardcopy of the book delivered right to your door.
An Invitation to Author's Table and Live Q&A session. We can talk about the book, get into behind-the-scenes strategies of the launch, and share inside tactics that nobody else can get.
Exclusive access to Conversations where we discuss the future.
Free VIP Access to our upcoming Community and streaming videos, podcasts, and diaries based on the content of the book as it pertains to the Future.
Additional freebies that I want to share with you. These will be surprises you do not expect.
Advance copies of workbooks on different things like A.I., Global Digital Shift, the Newdawn Characters, and other short stories.
Early access to Insights about the direction of the Saga that won't be available until after the book is launched.
Fill in the form below and click the link to enter the Launch Team.
HERE'S WHAT YOU HAVE TO DO:
1) Leave a short honest book review on Amazon.com during the book's launch week(I will let you know the exact date.) OR just leave the review once you read the book.
2) Do at least ONE thing on social media to help spread the word. You could send a tweet, mention it on Facebook, do a LinkedIn status update, upload a pic to Instagram, or a pin on Pinterest whatever you want.
3) Share with a friend and have them join as a NEWDAWNER!
Of course, if you WANT to do other things like buy copies of the book for friends, Like my FB posts, RT my tweets, send me brownies—I won't  object!
I am now working on the fourth book of the series NEWDAWN RISING and it is super important for me to get this launch right. I am only selecting twenty five people for the Galactic Readers League which is you, my Dream Team.
So PLEASE take this seriously and don't sign up if you aren't sure you'll have the time to leave a short Amazon review the week of the launch.
Does this sound awesome or what? If so, go ahead and sign up!
Take the journey into a future filled with wonders, and discover what happens when a signal looms beyond our galaxy bringing evidence of alien life and potential doom.
Uncover the dramatic state of our world by 2098 and beyond when global warming runs havoc on earth and how to survive a planet in turmoil.
Learn how our technological advances transform us into more powerful beings in charge of our own destinies. Our fight for survival begins with human ingenuity and one planetary A.I. determined to save its civilization.
Under a System on the brink of extinction with five Conclaves fighting for control on a planet unraveling, the young generation is the only hope as they represent the best humanity offers in a fight to endure and thrive. They are Perfect Humans, smarter, faster, and stronger to withstand the harsh demands of the deep void.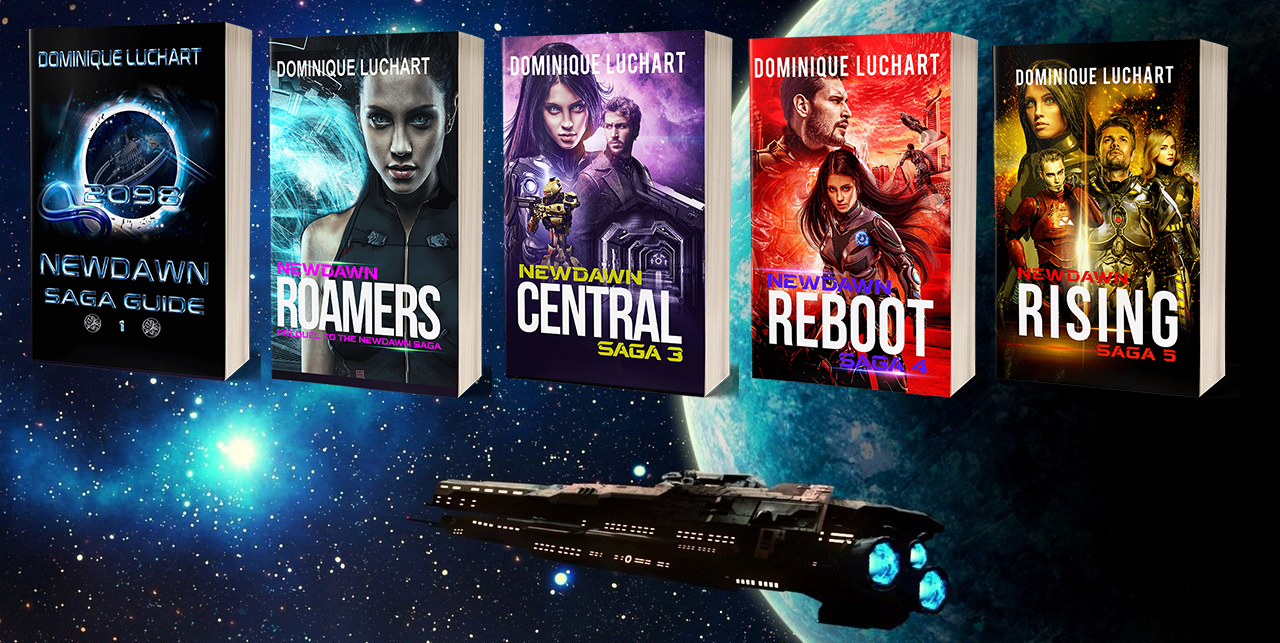 ARG
As part of the Galactic Readers League, you are a NEWDAWNER... With many perks!